This was our child's response to the first time hearing with hearing aids.
We found out Sayge, our third child, most likely had hearing loss when she was 2 days old. She did not pass the newborn hearing screening test. While doctors assured us that it was most likely fluid in her ears that was causing the failed screening, we knew that it was extremely likely. That is because Sayge's older brother, Ayden, has hearing loss. His too was detected at birth. Both children had no other signs or reasons that might have caused the hearing loss.
Complexity of Hearing 
After a failed newborn hearing screening test, we were referred to our ENT and Audiologist for further testing.  After all the testing was completed, they confirmed Sayge's hearing loss and it is almost exactly like Ayden's -permanent mild to moderate hearing loss in both ears. Hearing loss is more complex  than a binary -something you have (hearing) or don't have (complete deafness). The variations range all over the place depending on frequency and differs from person to person. Often times when people see Ayden and Sayge they assume they are completely deaf. Before Ayden, I had absolutely no idea how the hearing loss/deaf world worked and honestly, I am still learning a ton. But, here are some basics to help give some clarity.
Hearing Loss Basics 
Hearing loss is measured by combing of hearing levels and frequency of sound. The degree of loss is often placed into: mild, moderate, severe, to profound classes  based on the disables one can hear. Profound hearing loss is considered Deaf. An audiogram is what Audiologist use to chart the hearing loss and to represent the complexity of sound.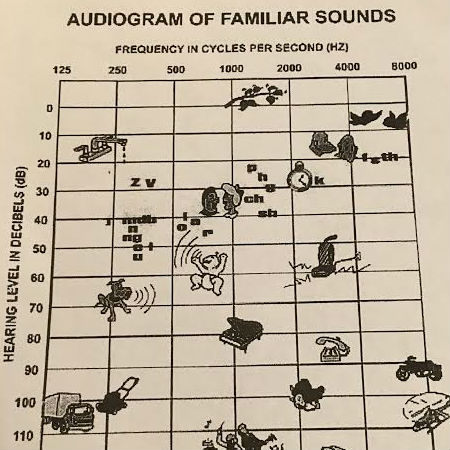 For both Ayden and Sayge, their hearing loss ranges from mild in the lower sounds and dips to moderate in the higher sounds. Normal hearing is anything 20 decibels and lower. A mild loss typically ranges from 20 – 40, moderate from  40 – 60, severe 70 – 80, and profound is anything above 90.
Hearing Tests 
Hearing tests are performed at least once a year starting as early as 6 months., However, it was the ABR test that originally determine the hearing loss. This detailed test collects data of vibrations that come from the ear canal. The ABR test is pretty accurate in the results, but it is considered a "prediction" of what a person's hearing loss might be. They can not test every single frequency and the audiologist has to interpret the results. This adds the possibility of minor human error. Because hearing is so complex and there are so many different frequencies, it can take years to begin to get an exact idea of the extent of hearing loss present.
For my children, while they do have a lot of natural hearing, wearing hearing aids gives them access to almost all sounds. Mild hearing loss, which might not sound as "bad" is still a significant loss. There are many sounds that fall into that range that are hard to access without hearing aids.
Cochlear Implants
Curious about cochlear implants? They are only for individuals that have severe to profound hearing loss and who don't respond well with hearing aids. My children do not qualify because of the range of their hearing loss and how great they have responded with hearing aids. If for some reason their hearing is progressive; gets worse, and hearing aids no longer are effective, then we would look into cochlear implants as an option.
Newborn Hearing Screening 
How did we find out so early? At birth, the hospital does a newborn hearing test on every child. The test measures the brain's response to specific frequencies. Meaning, it is not a behavior test. Further testing is done to determine the extent and kind of hearing loss and if there are other problems occurring. The newborn screening is relatively new. Before the newborn screening was universal, many children went years without being diagnosed. Each year, even month, can impact the brains ability to process sound and create speech. With early intervention, child can grow into successful individuals. The degree of hearing loss my children have,  without the newborn hearing screening, we wouldn't have noticed right away and would have not have gotten the early intervention.
Isolated Hearing Loss
Ayden and Sayge have "isolated" hearing loss, which means that no other body part is impacted or connected with another disease or disability. Both children are incredibly healthy. Their cognitive and physical development are not impacted. Even without hearing aids, Sayge smiles, laughs and does everything she can to connect with us. It is fascinating to see her naturally compensate for her lack of hearing by watching our every move.  Ayden, being further down the road in his hearing loss experience, loves to show off his physical abilities. He was walking at 10 months, climbed everything he could by 1, and now at 4 has mastered the monkey bars.  His speech improves everyday and he loves learning all his letter sounds and is getting excited to learn to read.
Sign Language
Sign Language is another topic we get asked a lot about from friends and family. This is a topic that I am still trying to understand and figure out what I would like to do for my kids. I love ASL and all the benefits that it offers. However, my kids fall in the strange world: not fully hearing, but not deaf. Therefore, with the use of their Phonak Sky V hearing aids they can very successfully learn to speak and communicate. In other words, they can be completely integrated into a hearing world successfully with the use of their hearing aids. All of my children, including my fully hearing son, have used baby sign language to help communication as they were learning to talk. They used signs like: more, please, thank you, help, want, milk, all done. We continue to teach them how to sign basic words and letter and enjoy integrating them into our daily routine.
Hearing Aids and Insurance
A sad fact about hearing aids is that most states do not cover hearing aids in their insurance plans. In fact, only 20 states offer state mandated hearing aid coverage. Out of those states, only one – Colorado – covers in full. All other states cover a portion of the hear aid cost. Check out what your state covers here. Illinois is one of those states. Thankfully, they also happen to have a great Early Intervention Program that funded both Ayden and Sayge with their first pair of aids and offer subsidized ongoing therapy. However, after the age of three, we are on our own and have to pay out of pocket for both hearing aids, ear molds, and batteries. To give an idea of the cost, for the average set of hearing aids, they are about $2500 per ear. And any extra devices like a Roger system (which adds amazing extra benefits) the cost is even more!
The Roger System 
The Roger FM system is an incredible device that has helped us! The Roger system works similar to a one way walkie talkie.  A person – dad, mom, or teacher wears the Roger device that has a microphone attached. When they speak, the microphone sends the sound directly to the two receivers that are attached to the back of the hearing aids. This system is typically used in the classroom and can be provided by most school systems, however, it is rare to see one at home. Mostly, because the system costs about $3,000.
Educate and Advocate 
We are so incredibly obsessed with this little one and feel like she is just a constant gift from God. Thanks for celebrating our amazing daughter with us. We desire to help educate others about what it is like for those living with hearing loss. We also want to help bring hope to other families that have had a similar diagnosis. Please feel free to comment or message me questions. I am happy to share and look forward to connecting.